How to Straighten Crooked Teeth Without Braces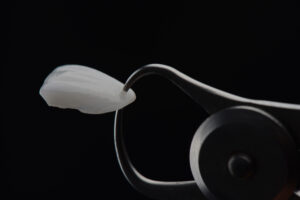 It is a common misconception that braces and other orthodontic treatments are the only ways to correct the appearance of crooked teeth. Custom porcelain veneers can offer an excellent option for straightening mild to moderate misalignment, as well as closing gaps between teeth. Veneers are thin shells of high-quality ceramic material which are designed to conceal a wide variety of cosmetic dental concerns. Our NYC cosmetic dentist, Michael Kosdon, DDS, has decades of experience designing and placing porcelain veneers to create beautiful, star-quality smiles. He frequently uses porcelain veneers to help patients achieve straight-looking teeth without the need for braces.
If you are interested in correcting the appearance of misaligned teeth, we encourage you to schedule a consultation with Dr. Kosdon to discuss whether porcelain veneers might be right for you. During this appointment, Dr. Kosdon will perform a comprehensive evaluation of the appearance of your teeth using state-of-the-art smile analysis technology and discuss your desired outcome. Based on your smile goals and the current state of your teeth, Dr. Kosdon can determine if porcelain veneers are indeed the best treatment approach for transforming your smile. In some cases, porcelain veneer patients with crooked or crowded teeth may require more preparation of the natural teeth, but most types of misalignment can be addressed with the right plan.
For more information about straightening the appearance of your smile without braces, please contact our office to schedule a porcelain veneers consultation with Dr. Kosdon.